Delicious recipes for you and your kids.
Join us for another post on Kitchen Time With Our Kids! A new meal will be added every week please stay tuned.
Breakfast
Crepes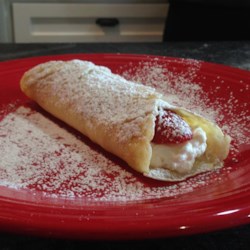 Ingredients
•1 cup all-purpose flour
•2 eggs
•1/2 cup milk
•1/2 cup water
•1/4 teaspoon salt
•2 tablespoons butter, melted

Directions
1. In a large mixing bowl, whisk together the flour and the eggs.
2. Gradually add in the milk and water, stirring to combine.
3. Add the salt and butter; beat until smooth.
4. Heat a lightly oiled griddle or frying pan over medium high heat.
5. Pour or scoop the batter onto the griddle, using approximately 1/4 cup for each crepe.
6. Tilt the pan with a circular motion so that the batter coats the surface evenly.
7. Cook the crepe for about 2 minutes, until the bottom is light brown.
8. Loosen with a spatula, turn and cook the other side.
9. Serve hot. Feel free to add any toppings you like such as nutella, fruits, whip cream and powdered sugar.
---
Lunch
Bug Bite Sandwiches
Ingredients
Ingredients
•1/2 whole wheat pita
•1 baby dill pickle
•2 thin carrot matchsticks
•¼ cup lowfat cream cheese
•2 tablespoons vanilla yogurt
•½ teaspoon ground tumeric
•¼ teaspoon garlic powder
•Pinch of salt
•2 slices honey-baked turkey breast
•4 thin orange slices
•4 thin red apple slices
•Clean scissors

Directions
1. Use clean children's scissors to cut the pita bread into four 1-inch ovals to help shape the wings.
2. Use a butter knife to slice one-third of the pickle off the top and set aside for the dragonfly's head.
3. The rest of the pickle will be its tail.
4. Use a toothpick to make two small holes on the top of the pickle head.
5. Slide one small carrot stick into each of the holes for the antennae.
6. Buzz like a bug as you combine the cream cheese, yogurt, tumeric, garlic powder and salt in a bowl.
7. Spread it on top of your pita bread.
8. Place your turkey slices on top of each other and roll them up tightly.
9. Place the turkey roll-up in the center of a plate.
10. Place the pickle head at one end, and the rest of the pickle at the other.
11. To help our dragonfly fly, it needs wings.
12. Place two pita ovals on each side of the turkey body.
13. Stack the sliced oranges and sliced apples on the wings, making sure all tips are pointing in.

---
Dinner
Chip Chicken Lollipops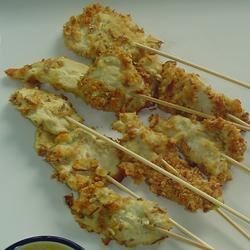 Ingredients
•4 skinless, boneless chicken breast halves – cut into 1/2 inch cubes
•1 egg
•2 tablespoons milk
•2 cups crushed potato chips
•lollipop sticks from a craft or party store

Directions
1. Preheat oven to 350 degrees F (175 degrees C).
2. Grease a baking sheet.
3. Crush potato chips onto a plate.
4. In a large bowl, whisk together egg and milk.
5. Dip the chicken cubes into the egg mixture, then coat well with potato chips.
6. Spread the nuggets onto the baking sheet.
7. Bake for 10 minutes.
8. Turn nuggets over, and bake for 10 minutes more, until golden brown.
9. Remove baking sheet from oven, and insert a lollipop stick into each nugget.
---
Dessert
Snowman Cupcakes
Ingredients
•1 box Betty Crocker™ SuperMoist™ white cake mix
•Water, vegetable oil and egg whites called for on cake mix box
•1 container Betty Crocker™ Whipped fluffy white frosting
•White decorator sugar crystals
•1 bag (16 oz) large marshmallows
•Pretzel sticks
•Betty Crocker™ Fruit by the Foot™ chewy fruit snack rolls, any red or orange flavor
•Assorted candies (such as gumdrops, gummy ring candies, peppermint candies, chocolate chips, pastel mint chips, Betty Crocker™ candy decors, string licorice)

Directions
1. Heat oven to 350°F (325°F for dark or nonstick pans).
2. Make, bake and cool cake mix as directed on box for 24 cupcakes.
3. Set aside 1/4 cup frosting. Frost cupcakes with remaining frosting.
4. Sprinkle frosting with sugar crystals.
5. Stack 2 or 3 marshmallows on each cupcake, using 1/2 teaspoon frosting between marshmallows to attach.
6. For arms, break pretzel sticks into pieces 1 1/2 inches long.
7. Press 2 pieces into marshmallow on each cupcake.
8. Cut 1-inch mitten shapes from fruit snack.
9. Attach mittens to pretzels.
10. For scarf, cut fruit snack into 6×1/4-inch piece; wrap and tie around base of top marshmallow.
11. For hat, stack candies, using frosting to attach.
12. For earmuff, use piece of string licorice and candies, using frosting to attach.
13. For faces and buttons, attach desired candies with small amount of frosting.
Enjoy and remember have fun!