November Meal Of The Week
Join us for another post on Kitchen Time With Our Kids! A new meal will be added every week please stay tuned. Enjoy this week's post on November themed meals!
Breakfast
Pumpkin Pie French Toast
Ingredients

•2 eggs
•1/4 cup milk
•1/4 cup pumpkin puree
•1/4 teaspoon vanilla
•1/2 teaspoon cinnamon
•1/4 teaspoon ginger
•1/8 teaspoon cloves
•1/8 teaspoon nutmeg
•2 tablespoons brown sugar
•8 slices of bread

Directions
1. Mix the eggs, milk, pumpkin puree, vanilla, cinnamon, ginger, cloves, nutmeg and brown sugar in low flat bowl for easy dipping.
2. Heat a pan over medium heat.
3. Dip the bread into the egg mixture on both sides and grill in a pan until lightly golden brown, about 2-3 minute per side.
---
Lunch
Turkey Nuggets
Ingredients
Ingredients are for a serving of 4
•Slices of turkey (the kids can cut them into circles)
•1 Tbsp. Milk
•2 Tbsp. Honey
•Panko bread crumbs (kids can help dip them in bread crumbs)

Directions
1. Using a small, round cookie cutter, cut out little medallions of turkey.
2. Mix milk and honey in a small bowl.
3. Put bread crumbs in another bowl.
4. Dip medallions in honey mixture, then crumbs, set on baking pan.
4. Broil on low for a few minutes, each side, until slightly golden.
5. Serve with honey or honey mustard sauce.
---
Dinner
Turkey Tetrazzini II

Ingredients
Ingredients. This Recipe will take 1 hour & 20 minutes
•1 (16 ounce) package uncooked spaghetti
•1/2 cup butter
•1/2 cup all-purpose flour
•3 cups chicken broth
•2 cups milk
•1 2/3 cups grated Parmesan cheese
•4 cups chopped cooked turkey
Read more at: http://www.foodnetwork.com/recipes/ellie-krieger/turkey-roulade-with-apple-cider-gravy-recipe.html?oc=linkback

Directions

1. Preheat oven to 350 degrees F (175 degrees C). Lightly grease a baking dish.
2. Bring a large pot of lightly salted water to a boil. Add spaghetti, and cook for 8 to 10 minutes or until al dente. Drain, and place in the prepared baking dish.
3. Melt butter in a medium saucepan over medium heat. Stir in flour. Mix in chicken broth and milk. Cook and stir until the mixture comes to a boil. Stir in about 1 1/3 cups Parmesan cheese, and remove from heat.
4. Mix chicken broth mixture and turkey with spaghetti. Top with remaining cheese. Bake 1 hour in the preheated oven, until surface is lightly browned.
---
Dessert
Oreo Cookie Turkeys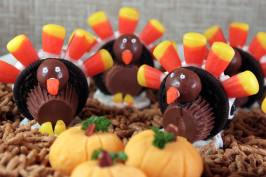 Ingredients

Ingredients are for a serving of 30
•24 Oreo Double Stuff cookies
•12 miniature peanut butter cups
•12 malted milk balls
•1 cup candy corn
•4 ounces chocolate frosting
•4 ounces white frosting
•red food coloring

Directions

1. Place one Oreo cookie as the base. Put one teaspoon of chocolate frosting on top.
2. Place one small peanut butter cup on it's side so that the top and bottom are perpendicular to the base — and stuck in the frosting. Place a teaspoon of chocolate frosting on the top(widest part) of the p-butter cup.
3. For the second cookie. Stick some candy corn into the Oreo 'stuff' along one edge for the feathers — pointy side down. They should fan out around the edge. If you have trouble doing this, you can help them stick with some white frosting.
4. Place this second Oreo cookie (the tail) on it's edge and sticking to a dab of brown frosting on the back of the peanut butter cup.
5. Place a dab of chocolate frosting on top of the peanut butter up (for the head). Place a malted milk ball on top for the head.
6. Take a small amount of the white frosting in a separate dish. Mix in red food coloring.
7. Use a toothpick with the white and red colors to place eyes, and wattle. You can pinch off the small pointy top of a candy corn and dip it in brown frosting for the beak.
8. Your turkey is complete! Have fun!
Enjoy!