Tricks and Treats for Your Kids 2
Join us for another post on Kitchen Time With Our Kids! A new meal will be added every week please stay tuned. Enjoy this week's post on fun and easy Halloween meals!
Breakfast
Monster Mouths
Time: 10 minutes
Ingredients
Ingredients are for a serving of 4
•4 cups fruit-flavored yogurt
•1 large apple, cored and cut lengthwise into 8 slices
•24 yogurt-covered raisins

Directions
1. In a small bowl, add 1 cup yogurt.
2. Top yogurt with 2 apple slices placed parallel to each other, peel side facing outward, about 1 inch apart.
3. Arrange 6 raisins between the apple slices to resemble teeth.
4. Repeat with the remaining ingredients.
---
Lunch
Monster Claws
Time: Prep-15 minutes Total-30 minutes
Ingredients
Ingredients are for a serving of 4
•4 small boneless skinless chicken breasts (1 lb.), cut lengthwise in half
•1 pkt. SHAKE 'N BAKE Extra Crispy Seasoned Coating Mix
•1/4 red pepper, cut into 8 triangular pieces
•1/4 cup KRAFT Original Barbecue Saucee
Directions
1. Heat oven to 400ºF.
2. Coat chicken with coating mix as directed on package.
3. Place chicken on baking sheet sprayed with cooking spray.
4. Bake 13 to 15 min. or until chicken is done.
5. Make 1/2-inch slit in thinner end of each chicken strip.
6. Insert red pepper triangle in slit for the monster's claw.
7. Serve with barbecue sauce.
---
Dinner
Halloween Jack-o'-Lantern Beef Pies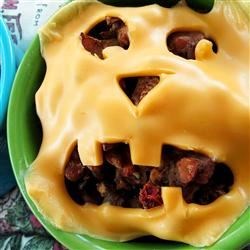 Time: Prep- 25 minutes Cook-35 minutes Total- 1 hour
Ingredients
Ingredients are for a serving of 10
•1 1/2 pounds ground beef
• 1 onion, chopped
• 1 tablespoon chili powder
• 1 teaspoon ground cumin
• 1/2 teaspoon salt
• 1/4 teaspoon garlic powder
• 1 (15 ounce) can tomato sauce
• 1 cup shredded carrot
• 1 (6 ounce) can chopped black olives, drained
• 1 (12 ounce) can refrigerated biscuit dough
• 10 slices American cheese

Directions

1. Preheat oven to 400 degrees F (200 degrees C). Grease 10 muffin cups.
2. Place ground beef and onion in a large skillet over medium heat; cook and stir until the meat is browned and crumbly, about 10 minutes.
3. Drain excess grease. Stir in the chili powder, cumin, salt, garlic powder, tomato sauce, carrot, and olives, and bring the mixture to a simmer.
4. Cover the skillet, and cook until thickened and the carrot is tender, about 20 minutes. Stir occasionally.
5. Working on a floured surface, separate each biscuit, and roll out into 4-inch circles.
6. Press the circles of biscuit dough into prepared muffin cups; bake in the preheated oven until the cups are lightly browned, about 10 minutes.
7. Remove the biscuit cups from the pan, and place onto a baking sheet.
8.Cut the 10 slices of American cheese into 3-inch circles, and cut jack-o'-lantern faces into the circles with a sharp paring knife.
9. Chop remnants of cheese, and mix into the meat mixture.
10. Fill the biscuit cups with meat mixture, and place a cheese face on top of each.
11. Return to the oven, and bake just until cheese begins to soften, 3 to 5 minutes.
---
Dessert
Magic Wands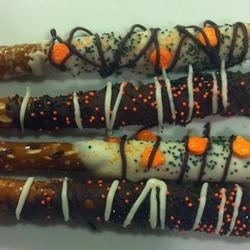 Time: 30 minutes
Ingredients

Ingredients are for a serving of 30
• 1 (15 ounce) package pretzel rods
• 1 (16 ounce) container prepared vanilla frosting
• 1/2 cup sprinkles or colored sugar for decoration
Directions

1. Dip each pretzel rod into frosting, not quite half way.
2. Roll in sprinkles to coat the frosting.
3. Abracadabra!