Kitchen Time With Our Kids
Join us for another post on Kitchen Time With Our Kids! A new meal will be added every week please stay tuned.
Breakfast
Apple Sandwiches
Ingredients
•10 Tbs. peanut butter
•1 Granny Smith apple, cored and cut into 10 rings, each about 1/4 inch thick
•5 Tbs. granola
•2 Tbs. raisins

Directions

1. Spread 2 Tbs. peanut butter onto half of the apple rings.
2. Sprinkle each with 1 Tbs. granola and a few raisins.
3. Cover each with one of the remaining apple rings to form sandwiches.
4. Makes 5 apple sandwiches.
---
Lunch
Bacon Macaroni and Cheese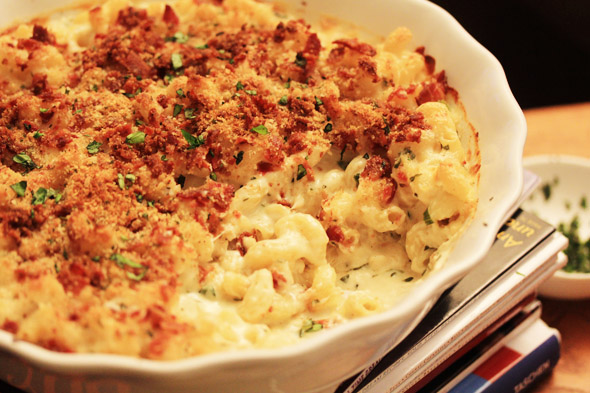 Ingredients
•8 slices bacon
•6 tablespoons unsalted butter
•1 cup fresh breadcrumbs
•1/4 cup grated Parmesan
•1/2 cup all-purpose flour
•6 cups 2% milk
•3/4 pound elbow macaroni
•3 cups grated gouda
•1 cup grated Gruyere
•1 teaspoon Dijon mustard
•Salt and pepper

Directions
1. Cook bacon until crisp. Remove from skillet and crumble (discard bacon fat).
2. Heat broiler. In a large straight-sided, oven-safe skillet, melt butter.
3. Remove 1 tablespoon butter and combine with breadcrumbs and Parmesan.
4. Whisk in flour and cook, stirring, 1 minute.
5. Very gradually whisk in milk and bring to a simmer.
6. Add macaroni and cook, stirring constantly and scraping bottom of pan, until tender, about 6 minutes.
7. Remove from heat, stir in remaining cheese and the bacon and mustard, and season with salt and pepper.
8. Top with breadcrumb mixture and broil until golden brown, 1 to 2 minutes.
---
Dinner
Chicken Sausage Jambalaya

Ingredients
•1 tablespoon vegetable oil
•1 package (12 oz) fully cooked Cajun chicken sausage, cut into 1/4-inch slices
•1 cup chopped green bell pepper
•1 cup chopped onion
•2 cloves garlic, finely chopped
•1 can (14.5 oz) Muir Glen™ organic diced tomatoes, undrained
•1 pouch (9 oz) Progresso™ Recipe Starters™ fire-roasted tomato cooking sauce
•2 cups Progresso™ chicken broth (from 32-oz carton)
•3 cups cooked long grain white rice
•Chopped fresh chives, if desired
Directions
1. In 4-quart Dutch oven, heat oil over medium-high heat.
2. Cook sausage in oil 2 to 3 minutes, stirring constantly, until browned.
3. Remove sausage from Dutch oven to bowl; cover to keep warm.
4. Add bell pepper, onion and garlic to Dutch oven; cook over medium-high heat 2-3 minutes, stirring constantly.
5. Add tomatoes, cooking sauce and broth; heat to boiling.
6. Stir in cooked rice; return to boiling.
7. Reduce heat to medium-low. Cover; simmer 10 minutes.
8. Return sausage to pan. Cover; cook 10 minutes longer.
9. Garnish with chives.

---
Dessert
Fruit Pizza
Ingredients
•1 pouch (1 lb 1.5 oz) of sugar cookie mix
•1/2 cup butter or margarine, melted
•1 egg
•1 cup whipping cream
•1/2 cup of cream cheese frosting (from 1-lb container)
•3 1/2 cups assorted fresh fruit
Directions
1. Heat oven to 375°F. Lightly spray 14-inch pizza pan or 15×10-inch baking pan with cooking spray.
2. In medium bowl, stir cookie mix, melted butter and egg until soft dough forms.
3. Press dough in bottom of pan.
4. Bake 10 to 15 minutes or until light golden brown.
5. Cool completely, about 45 minutes.
6. In chilled medium bowl, beat whipping cream with electric mixer on high speed until soft peaks form.
7. Gently stir frosting into whipped cream. Spread over cookie pizza.
8. Arrange fruit on top.
Enjoy and remember have fun!