Kitchen Time With Our Kids
Join us for another post on Kitchen Time With Our Kids! A new meal will be added every week please stay tuned.
Breakfast
Inside Out Crepe Omelets
Ingredients
• 1 1/2 cups Original Bisquick™ mix
• 1 cup milk
• 2 tablespoons whipping cream
• 3 eggs Omelets
• 16 eggs, beaten
• 2 cups shredded Colby-Monterey Jack cheese blend (8 oz)
• 1 cup fresh pico de gallo

Directions

1. Heat oven to 350°F. Spray 8 ramekins with cooking spray. Set aside.
2. Beat Crepe ingredients with whisk until very well combined.
3. Spray crepe pan or large flat skillet with cooking spray before making each crepe. Pour about 1/4 cup crepe batter onto hot skillet; spread batter as thin as possible into a circle. Turn after 1 to 2 minutes, or after browned. Cook 30 seconds longer. Remove crepe from heat, and place layers of waxed paper between prepared crepes until all 8 have been made.
4. In large bowl, combine Omelet ingredients. Season with salt and pepper as desired.
5. One at a time, place prepared crepes into ramekins in a similar fashion as making a pie crust. Fold into place as needed. Pour egg mixture into each crepe-filled ramekin. Place ramekins on a cookie sheet.
6. Bake about 20 minutes or until eggs have puffed and are cooked through.
7. Cool slightly before unmolding from ramekins. Serve hot, topped with additional pico de gallo and shredded cheese, if desired.
---
Lunch
Ladybugs on a Log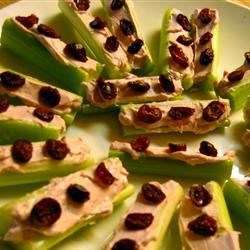 Ingredients
• 1/4 cup dried cranberries
• 1/2 cup raspberry flavored cream cheese
• 6 stalks celery, cut into 3-inch pieces

Directions
1. Fill each celery stick with raspberry flavored cream cheese.
2. Top each celery stick with 3 or 4 dried cranberries.

---
Dinner
Chicken Parm Pizza

Ingredients
• 1 store bought pizza dough
• Cornmeal or flour, for dough
• 2 tablespoons extra-virgin olive oil (2 turns of the pan plus a drizzle)
• 1 pound ground chicken
• 3 cloves garlic, chopped
• 1 small onion, chopped
• Salt and pepper
• Handful flat-leaf parsley, chopped
• Couple pinches crushed red pepper flakes
• Couple pinches dried oregano
• 1 (8-ounce) can tomato sauce
• 1 cup grated Parmigiano-Reggiano
• 1 1/2 cups shredded provolone
• 5 to 6 leaves basil, torn or shredded
Directions
1. Preheat oven to 425 degrees F.
2. Coat hands and work surface with a little cornmeal or flour.
3. Using your hand or a rolling pin, form a 14-inch round pizza.
4. Place pizza on a baking sheet or pizza stone and poke the top with a few holes.
5. Drizzle a little bit of extra-virgin olive oil down over the dough and place in oven. Bake 10 minutes.
6. Heat a deep skillet over medium-high heat with 2 tablespoons of extra-virgin olive oil.
7. Add meat and break it up with a wooden spoon.
8. To browned meat, add garlic and onions, then season with salt and pepper.
9. Cook together 5 to 6 minutes then add parsley, red pepper flakes, oregano and the tomatoes to the pan. Heat the sauce through.
10. Remove pizza from oven after 10 minutes and top with sauce and cheeses.
11. Return to oven and bake until golden and bubbly, another 10 to12 minutes.
12. Top the pizza with basil, cut and serve.
---
Dessert
S'mores Poke Brownies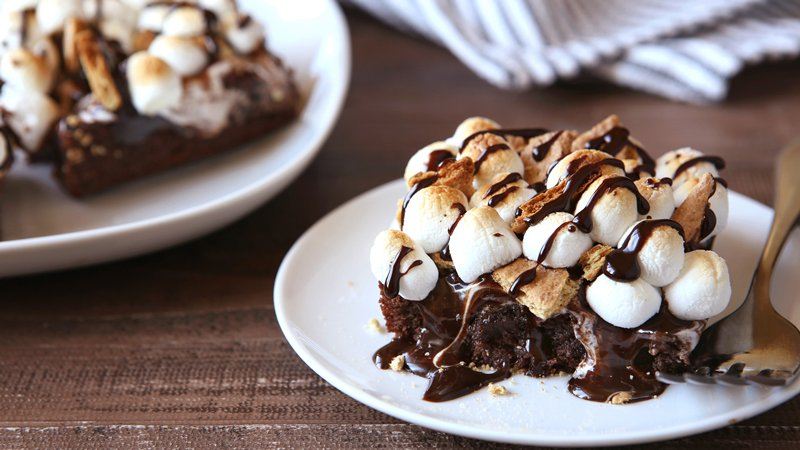 Ingredients
• 1 box (18.3 oz) Betty Crocker™ brownie mix fudge
• Water, vegetable oil and eggs called for on brownie mix box
• 1 cup marshmallow creme
• 3 tablespoons water
• 1 jar (about 12 oz) hot fudge topping
• 1 cup broken up graham crackers
• 2 cups miniature marshmallows

Directions
1. Heat oven to 350°F. Spray 9-inch square pan with cooking spray.
2. Make brownies as directed on box for 9×9-inch pan. Cool 30 minutes. Use a wooden dowel to poke holes in brownies about 1 inch apart, pushing all the way down to bottom of pan.
3. In small microwavable bowl, microwave marshmallow crème uncovered on High 30 seconds or until soft. Add water; stir until smooth and pourable. Pour over brownies. Let stand 30 minutes.
4. Spread half of the hot fudge topping over top of brownies. Top with broken graham crackers and miniature marshmallows.
5. Set oven control to broil. Broil with marshmallows 4 to 6 inches from heat 2 to 3 minutes or until marshmallows are lightly browned.
6. Drizzle with remaining hot fudge topping. When ready to serve, cut into 4 rows by 4 rows.
Enjoy and remember have fun!